9 min read
What's It Like to Onboard with Cobb - Kiersten's Experience

Kate Vinnedge : Jan 1, 2022 12:00:00 AM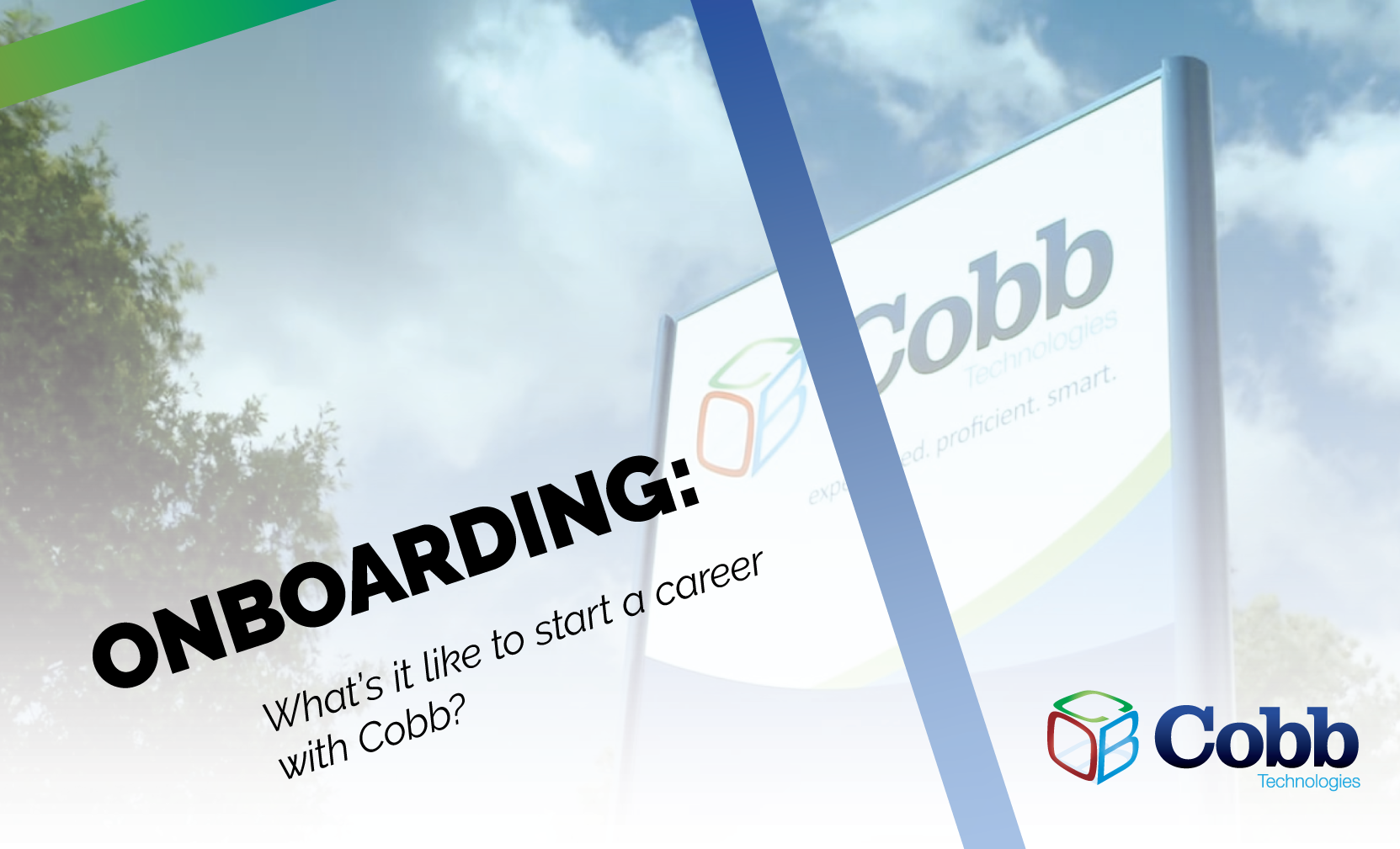 It's no secret that searching for a job is one of the most stressful aspects of life. In fact, starting a new job ranks among the top five most stressful moments in life; the other four being serious illness, moving, divorce, and death.
Unfortunately, there is no perfect way to assuage the natural fears and anxiety we experience when venturing into the unknown. It is human nature, after all. But something we here at Cobb can do is provide you with the perspective of some of our newest employees, and their journey from their initial search, through the interview process, to their first day as part of the team.
To read our first blog in our onboarding series, check out What's It Like to Onboard with Cobb?
Below, we share our interview with Kiersten, an Account Manager at Cobb's Richmond office. Kiersten's first day was October 27th of 2020 — a tumultuous time to begin a new role. But, in classic Kiersten fashion, she handled both the stress of interviewing for a new position over Zoom, and the pandemic in general, with grace.
Kiersten's onboarding experience
How did you find the position?
I was in one of those ready to move on kind of modes, and while searching for a new job, I found Cobb online. It was definitely the "Cobb it!" radio commercials that were in my head, and that was my first association with the company.
I think it was that sense of humor that first attracted me to this position.
What did you do before your current position?
I was an accounting associate / patient liaison / buyer at a holistic doctor's clinic. I did the check in stuff, and their accounting stuff, and they had an in-house vitamin shop, so I was the person who managed the inventory, and coordinated new products.
Was there anything in the job description for the account management position that stuck out to you?
I actually applied for the accounts payable position. What appealed to me about it was the team oriented approach, but also it was something that I had in my wheel house. I hadn't ever done account management before. After I turned in my application for the accounts payable position, I got a call from Loren (Cobb's Business Relationship Supervisor), and she said that they were already deep into interviewing for that position, but they had an account manger position open, if I was interested.
Did you have to fill out another application?
They moved me through the process without me needing to fill out another application. It kind of sounded like Loren already had access to my resume and application at that point.
When was your first interview?
The first interview happened right then. It was a phone conversation. It was pretty quick, probably about 15 or 20 minutes.
Were there any first impressions you got from that call?
I was a little nervous because it wasn't what I applied for, so I was kind of caught off guard by that transition. So my initial perception was, "Let's see how it goes." Loren's energy was really exciting, she has that customer service voice, and I could tell that it was important to her, so as far as my interaction with a Cobb employee it was very positive.
How much time was between that interview and your second?
I had a Zoom interview with just Loren the next week, I was so worried at that point, because it was so glitchy, and what ended up having to happen was I had to mute myself to hear Loren talking, and then I'd have to unmute myself so I could respond. And there was a bunch of lag, and I thought to myself, "Well, technology… and I'm not going to get any farther because this interview was really awkward."
And part of that was just nerves. And then I came in and did a behavioral assessment in person, and after that I did an interview with both Loren and Maria (Director of Customer Experience). And that was actually two and a half hours long. That was also via Zoom. I went to a friends place, someone who works from home, and I just said, "I need to make sure that connectivity is not an issue." One less thing to worry about during an interview.
How long was your first Zoom call?
I think it was around 30 to 45 minutes. Not terribly long, and I think it would have been a bit shorter if we didn't have the lag.
Was there anything that stuck out to you in that interview in terms of the information you were being given? Did it help dissuade any anxiety you had about going into a position that you hadn't really done before?
The kind of questions that Loren asked me showed me that she knew about the position, and the fact that she had been an account manager before also made me feel more comfortable because I've been in positions where I had a manager who wasn't familiar with the position that I was in. So it was refreshing to hear that Loren did have that experience, and she asked me questions that got me thinking about how — and everyone tries to do this in interviews —I could relate my experiences to what the new role would be.
What was your impression of the behavioral assessment?
My impression was, "Oh my goodness, they care, they're serious. They're investing." I was thinking that I was a real candidate, versus that initial phone call, where I was thinking, "Maybe they're not interested, maybe they're just checking all the options because I'm there."
So I was like, "Whoa." I asked how much time to budget for the behavioral assessment, and they said 2 hours, and I thought to myself, "Okay, I'm a candidate, they're taking this seriously, this is exciting."
How was the two-hour-long interview?
It was a little bit intimidating knowing that it was going to be a two-hour-long interview, and going through the mental process of how to prepare for a two-hour-long interview. They started by saying, "Let's start from the beginning, start from High School, and tell us everything."
And I was just like, "Okay, here we go." It was also neat and fun to get to see the interplay between Loren and Maria because they work together, they have worked together a long time, and I started to see how the hierarchy was respectful, and how they really were a team.
There was a question in particular that Maria asked and Loren just stopped for a minute, and said, "That's such a good question Maria, thank you for asking that!"
It was something along the lines of, "Kiersten, what do you expect from a manager?" I thought that kind of camaraderie was cool.
Throughout the process I definitely got the feeling that they were putting a lot of thought and being very intentional and were investing.
Did you feel like there were any differences between the first interview, and the two-hour-long interview?
I felt like everybody kind of relaxed a little bit, even though we were adding a new person. I was at the point where I was realizing that, "I've made it this far, I must be at least a pretty good candidate."
And Loren and I were coming to an understanding of, "Yeah, we could work together." And then we added in Maria, and Loren also had her team there for her, so it was exciting to see that teamwork in action, and I could see myself as part of that team.
How many days did it take to get your offer?
At the end of that two hour interview, Maria said to me that she would like to schedule another interview, and I was like, "Oh no, what's next, what could possibly happen?"
And I had left my position at the time early, so I didn't want to disrupt my schedule another day in a row, thinking that maybe they would be like, "We need to add another person, and it's going to be another long interview."
So I asked if we could meet two days from then. And they said they just needed a couple of minutes. I got the offer two days after that [previous] interview, and both Maria and Loren were on the phone, and I was in my car on my lunch break. I got an official offer letter the next day.
What happened on that phone call?
Loren and Maria said that they agreed and they wanted to see if I would like to be part of their team. And then Maria made some observation about my audio quality, and we all laughed about me being in my car.
What was running through your head at that moment, since you had an offer?
I was so excited. I was really excited. I have worked for some really, really small companies previously, and so I haven't had a lot of opportunity to be on a team, and so it was something I was looking for, and it was something that I was looking forward to doing at Cobb.
What was your first day like, going into a place, and there's COVID and there's not too many people in the office, what was that like?
That was funny, because a couple days before, it was a Thursday, and my mom lives a couple hours away, and she wanted to visit Richmond, and she wanted to go to Costco, and we were standing in the (socially distanced) line at Costco, and this guy goes zipping past us, and he's wearing bright red pants, and this Cobb polo, and my mom yells and points at this man, and she's like, "Cobb Technologies!"
And I was like, "Mom, you're already embarrassing me, I don't even work there yet!" And then I walk into my ambassador day, and I meet Peter Larsen (Senior Business Improvement Specialist and New Hire Ambassador). And I had already seen him zipping by at Costco.
That's Peter.
Yep.
It was a little nerve wracking starting a new job, and being like, "How do I talk to people?" I think they did a really good job, especially in light of COVID, about how welcoming the atmosphere was, and the opportunity to meet a few people.
What did you do with the ambassadors?
My first day, I didn't spend any time with Loren or doing job training or anything like that, the first day it was all with the ambassadors, and with HR, and I think it was my very first day, I did a copiers and printers 101 course with Paul (Director of Technical Training), which was an introduction to the physical machines.
Because you probably have to answer a lot of questions based around that (as an account manager).
Yeah, it's good to know some of the basics at least.
Did you do a ride along?
I was in Paul's classroom. As part of ambassador day, we did a tour through the building, and in the showroom we got to see different machines. And it was kind of cool having all those different departments together, as all of us were going on this tour, learning about what was important in all the different spaces to all the different people.
What was your first impression of Cobb going home that day?
I was excited — there was more to Cobb than I realized, so it was a kind of excitement in terms of, "Oh my goodness, I have so much to learn, this is going to be fun." And that was before I felt like I started learning anything about my job, so it was exciting, but also kind of like, "What's next?"
So what was your first day actually working like?
Loren and I were in the conference room, working as socially distant as possible, and she was on her laptop, which was hooked up to the TV, so I could see what she was doing. A lot of my training has been that way, and has become even more socially distanced since then, where we're actually in our own spaces, and completely doing it through Teams.
Do you find it difficult to learn in that virtual space?
Something that I'm kind of sad that I'm missing out on is Loren talked about we used to do a lot of side-by-sides, where I would be in my workspace doing a task, and the person training would be sitting next to me, kind of pointing out things that I missed, or helping me through the process. So that would be kind of really helpful to me, because repetition and doing it myself helps me learn, while watching or reading isn't quite as helpful for me. So I do try to read the section in my binder that was relevant, and be ready to watch Loren maneuver through, and take my own notes, so I can re-organize information for myself, and internalize it more.
It's been a little tricky, but we're all doing the best we can, and trying new things to make it stick, and make sure we're all on the same page.
How many months have you been here now?
I started on October 27th. So I am right at 90 days. So I still have some training, I've got four binders in my workstation, and one of them we haven't really gotten into yet.
If you had any advice for someone who is applying to a job at Cobb, what would it be?
Be honest about what you're looking for, because if you're not honest about yourself and the team you're going to be a part of, you're working closely enough with folks that they'll figure it out. Just be genuine and be on board right off the bat — I think that is a really good policy.
Are there any tips you have for people who are interviewing on Zoom?
Don't try to be nice just for the sake of being nice. If there is a technology issue, you have to open your mouth and communicate that clearly because you can smile and nod and pretend like you're hearing everything clearly, but once they get to the actual question, they're going to figure it out. Anticipating and leaving buffer space for those kinds of things is important. Give yourself the time you think you might need, and, give yourself a little bit of grace, because it's a different process, and it's not just the applicant that's experiencing that.
What's your favorite part of the job?
It honestly hasn't all sunk in yet. I'm still in learning mode and figuring things out. I really do like that there is no opportunity to get bored, a lot of the customer base is great and has long-standing relationships, so if you run into a customer having a bad day, you're just as likely to run into a customer that's really pleasant. Having all the different things going on is a lot of fun.
Olivia Mlincsek
: Aug 5, 2022 10:15:00 AM
Read More